Rollovers Increase Risk Of Truck Accidents In Washington State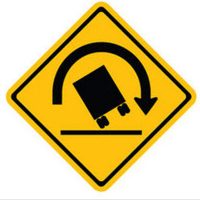 With the number of commercial vehicles traveling throughout the area, truck accidents in Washington State pose significant hazards for all motorists. These can involve semi-trucks, tractor-trailers, and other types of big rigs, as well as pick-up trucks, delivery vans, and other taller vehicles. Considering their increased height, they are more subject to rollovers. Find out more about these crashes and how they can increase your accident risks.
Rollovers: A Common Hazard With Taller Vehicles
According to a March 31, 2023 News Radio KPQ report, one person was killed in a recent rollover truck accident on Interstate 90 in Washington State. State troopers report that a 29-year-old Carnation man was driving a 2013 Ram 2500 and heading west near Vantage when he lost control of his vehicle.
Witnesses report the truck skidded, rolled over, and came to rest on a median strip. Paramedics extracted the driver from the wreckage and rushed him to a local hospital, but he died as a result of his injuries. Fortunately, no other motorists were involved. Police are continuing to investigate the case and have not determined any underlying causes.
This type of truck accident is not uncommon. Among taller vehicles, rollover crashes are a serious risk. In addition to pick-up trucks, they are also common among the following types of vehicles:
Delivery trucks and vans;
Dump trucks and other construction or utility vehicles;
Semi-trucks, tractor-trailers, and 18-wheelers; and
Buses, SUVs, and other tall passenger vehicles.
In addition to the risks rollover accidents pose to drivers of these vehicles, this type of crash can endanger other motorists on the road.
Factors That Increase Rollover Truck Accident Risks
According to the National Highway Traffic Safety Administration (NHTSA), rollovers are one of the most common types of truck accidents, and can either be a direct cause of a crash or may happen in the immediate aftermath. They are also among the most potentially deadly types of truck accidents in Washington State, impacting drivers and often triggering multi-vehicle pile-ups.
The large vertical height at which large trucks and other taller vehicles sit increases rollover accident risks. Other common contributing factors include:
Speeding and going too fast for conditions, particularly when making turns or going around curves in the road;
Uneven and unsecured loads, which can shift and cause imbalances;
Tire blowouts, broken wheel bearings, brake failure, and other mechanical issues, which can make rollovers more likely to happen;
Slamming on the brakes when coming to a stop, which creates instability throughout taller vehicles; and
Hitting rough patches of road and clipping curves, guide rails, or other obstacles, throwing off wheel balance.
Reach Out To Our Issaquah Truck Accident Attorneys
Rollover truck accidents can impact multiple other drivers on the road. If you are involved in this type of crash, reach out to Injury Law Group NW. We investigate your case, deal with trucking companies, other motorists, and insurers on your behalf, and help you get the total compensation you are entitled to in a claim. Call or contact us online and request a consultation with one of our Issaquah personal injury attorneys today.
Sources:
kpq.com/one-dead-from-pickup-rollover-crash-on-i-90-near-vantage/
nhtsa.gov/crashworthiness/rollover-research