For Older Adults, Slips And Falls Are A Common Cause Of Personal Injuries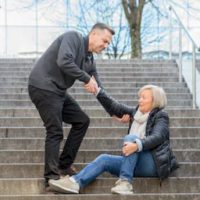 Older adults today live an active lifestyle, enjoying a variety of hobbies and activities. However, whether traveling, shopping, dining out, visiting others at their homes, or simply attending doctor visits, be aware of the risks regarding slip and fall injuries. Our s explain how these accidents are common among older adults and how to protect your rights in a claim.
Slip and Fall Injuries In Issaquah Are Common Among Older Adults
Slips and falls are one of the most common causes of personal injuries, particularly among older adults. According to the Washington State Department of Health (DOH), in 2020 alone, they sent close to 30,000 people in Washington State over the age of 60 to local hospital emergency rooms.
While they can cause serious harm to victims at any age, older adults are particularly vulnerable and often suffer personal injuries that have the potential to be debilitating. These include:
Broken bones, impacting shoulders, wrists, elbows, ankles, and hips;
Soft tissue injuries, such as painful strains or tears that take long months to heal;
Head injuries, resulting in concussions and skull fractures;
Back and neck injuries, such as fractured vertebrae and herniated discs.
Older adults are generally more vulnerable to slip and fall injuries and often suffer decreased mobility as a result. In some cases, a slip and fall can even cause a general decline in health and may even cause an early death.
Protecting Yourself Against Slip And Fall Accidents
The National Institutes Of Health (NIH) advises that there are several factors that increase the risk of slips and falls among older adults. Diminished eyesight, reduced reflexes and coordination, stiff muscles and joints, and certain medications can make these accidents more likely to happen.
Being mindful of your limitations and aware of the risks can help to protect you against serious personal injuries. However, negligence on the part of property owners is often ultimately responsible. Wet floors, uneven walkways, and cluttered aisles all increase the likelihood of slip and fall injuries. Take these steps to protect yourself if an accident occurs:
Report it immediately to the property owner;
Make sure an accident report is filed, detailing exactly when, where, and how it occurred;
Get contact information for witnesses at the scene;
Seek medical care immediately and follow all doctor instructions.
When a slip and fall happens either in a public place or when visiting others in their home, insurance policies the at-fault party has in place can help compensate you for medical expenses and other losses you incur.
Request A Consultation With Our Issaquah Slip And Fall Attorneys 
Slip and fall accidents can have devastating impacts on older adults. At Injury Law Group NW, we help you get the compensation you need to recover. Our Issaquah slip and fall attorneys negotiate with insurers on your behalf and will not hesitate to file a premises liability lawsuit if needed. To request a consultation, call or contact us online today.
Sources:
doh.wa.gov/you-and-your-family/injury-and-violence-prevention/older-adult-falls/falls-washington
nia.nih.gov/health/falls-and-fractures-older-adults-causes-and-prevention