Distracted Driving A Leading Cause Of Car Accidents In Washington State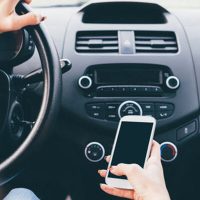 The ability to multi-task is generally considered an important skill that can help you at work, school, and in managing your home life. However, there are some tasks that require your undivided attention and driving is one of them.
Behind the wheel, juggling multiple things at once significantly increases your risk of car accidents in Washington. These can result in serious, potentially life-threatening personal injuries for you and others on the road. Our Washington auto accident attorneys explain more about this unfortunately common problem and how to reduce your risks.
April Is Distracted Driving Awareness Month
April is designated as Distracted Driving Awareness Month and aims to call attention to one of the most common causes of car accidents. According to the National Highway Traffic Safety Administration (NHTSA), distracted driving claims the lives of more than 3,000 people per year while leaving tens of thousands of other drivers, passengers, pedestrians, and bicyclists suffering serious personal injuries.
Distracted driving involves anything that causes you to take your eyes off the road, your hands off the steering wheel, or your mind off the complex task of driving. It includes:
Talking on cellphones;
Texting, checking social media status, or sending emails;
Taking photos and videos or otherwise using handheld electronic devices;
Changing GPS or car stereo settings;
Eating fast food and drinking coffee or other beverages;
Adjusting your appearance in the rearview mirror;
Reaching for items or handing things to children in the back seat.
Distracted Driving Risks
Distracted driving is a major problem in our area and a common contributing cause of car accidents in Washington. The Washington Traffic Safety Commission (WTSC) warns that it claims the lives of nearly 200 motorists each year. Using a cellphone while driving is against the law throughout the state but even engaging in other activities could divert your attention long enough to make a car accident more likely to happen.
Being distracted can cause you to miss signs of an impending crash, can leave you unprepared when other motorists make unexpected stops or other moves, and drastically reduces your reaction times. To reduce your risks of being involved in a distracted driving car accident and to protect yourself and your passengers, follow these tips:
Refuse to use your cellphone while behind the wheel.
Adjust GPS or stereo settings before pulling out into traffic.
If you go to a drive-thru, pull over and park while you eat.
Make sure children have what they need before starting a trip.
If another motorist is showing signs of being distracted, such as swerving in and out of their lane or failing to yield, keep your distance. If an accident does occur, notify the police and get medical attention for your injuries immediately.
Contact Our Issaquah, Washington Car Accident Attorneys
Distracted driving car accidents can result in serious personal injuries. To get the compensation you need to recover, reach out to Injury Law Group NW. Call or contact our Issaquah, Washington car accident attorneys online and request a consultation today.
Source:
nhtsa.gov/es/distracted-driving/april-distracted-driving-awareness-month#:~:text=April%2C%20which%20is%20national%20Distracted,we're%20on%20the%20road