Traumatic Brain Injuries Common In Youth Sports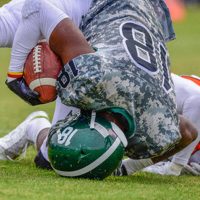 Participating in school and recreational youth sports programs is generally good for children. It keeps them physically fit, teaches them teamwork, and can help them get scholarships to help with future college costs. However, it is important for parents to be aware of the risks.
Traumatic brain injuries (TBI) are one of the most common types of youth sports injuries. Sadly, they are also among the most severe. Our Washington traumatic brain injury attorneys explain why TBI often happens to young athletes, the effects it can have on them, and your rights in holding negligent schools and recreational facilities accountable.
Brain Injuries and Youth Sports
After a long winter, children look forward to getting back outside in the spring. April is often the time when they sign up for school and recreational sports programs that will keep them busy throughout the months ahead. It makes sense that this is also a good time to call attention to the risks regarding youth sports injuries.
April is designated as National Youth Sports Safety Month and focuses on an unfortunately common problem. Roughly 30 million young people participate in some type of organized or team sports and over seven million end up suffering personal injuries as a result. Traumatic brain injuries are one of the most common and can occur while playing football, soccer, hockey, or any type of sport. Common reasons TBI happens include:
Failure to provide appropriate safety helmets;
Failure to provide proper cushioning on fields;
Allowing or encouraging aggressive tackles or other rough play among participants;
Returning injured athletes to play without getting them checked by a doctor first.
Protecting Young Athletes Against Traumatic Brain Injuries
Traumatic brain injuries (TBI) can occur due to any type of bump, blow, or sudden jolt to the head. These disrupt neural pathways and may result in swelling, bruising, or bleeding in and around the brain. The Centers for Disease Control and Prevention (CDC) advises coaches, officials, recreational staff, and parents to be alert for telltale signs of brain injuries in youth sports, which include:
Momentary loss of consciousness;
Confusion and loss of memory regarding what happened;
Blurred vision;
Severe headaches;
Nausea or vomiting;
Difficulty speaking or understanding what is being said;
Problems walking or maintaining balance;
Sudden changes in mood or personality.
If a brain injury is suspected, get your child treated immediately. They should not return to play before being cleared by the doctor. Sports program staff and administrators can be held liable if they failed to take proper precautions to prevent traumatic brain injuries or if they returned your child to play too soon.
Reach Out To Our Issaquah, Washington Traumatic Brain Injury Attorneys
Traumatic brain injuries can have devastating effects, impacting your son or daughter for years to come. At the Injury Law Group NW, we help you get the compensation you need to cover your medical expenses and other costs. Reach out and call or contact our Washington traumatic brain injury attorneys online to arrange a consultation today.
Source:
cdc.gov/headsup/youthsports/index.html