Road Construction Accidents In Issaquah Hazardous To Workers And Motorists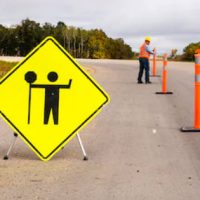 For residents in Issaquah and throughout Washington State, delays due to road construction are a major source of frustration. These often seem to take forever to complete and, once finally finished, others pop up to take their place.
Unfortunately, road construction projects are more than just a major annoyance. They are a common cause of accidents and serious, potentially life-threatening personal injuries for both motorists and road construction crews. Our Issaquah construction accident attorneys want you to be aware of the risks and how to protect yourself and others on the road.
Road Construction Projects Pose Major Risks To Workers And Motorists
Certain types of road conditions increase the general risk of motor vehicle accidents. In addition to adverse weather, road construction projects are among the biggest hazards. According to Centers for Disease Control and Prevention (CDC), accidents that occur on or near these sites pose major risks to the health and safety of both road construction workers and drivers in the area.
The CDC reports that more than 100 road workers and nearly 1,000 motorists are killed in road work-related crashes each year, while thousands of other people involved suffer serious personal injuries. Common conditions that increase personal injury risks in these areas include:
Heavy traffic due to road closures and detours, which makes crashes and collisions more likely to happen;
Uneven road surfaces, making drivers more likely to lose control of their vehicles;
Frustration on the part of motorists, leading to tailgating, failure to yield, and other reckless driving behaviors;
Distracted driving, one of the leading causes of car accidents;
Narrow road widths and work areas, increasing the risks for motorists and workers on road construction sites; and
The operation of heavy equipment either after hours or amidst traffic.
How To Reduce The Risks Of Road Construction Accidents
With the number of people employed in the construction industry and the number of motorists who regularly encounter delays due to road work in our area, it is important for everyone to take steps to reduce the risk of road construction zone accidents. To protect yourself, your passengers, and workers in these areas, follow these tips:
Check with the King County Department of Road Services regularly and be aware of ongoing construction projects in our area;
If you know you will be traveling through a construction zone, allow yourself extra time to reach your destination;
Take advantage of detours when possible;
Drive slowly in active construction areas;
Keep both hands on the wheel and your eyes on the road at all times;
Be mindful of keeping your distance from road crews and construction equipment; and
Be courteous to other drivers and avoid aggressive driving behaviors.
Contact Our Issaquah Construction Accident Attorneys
At Injury Law Group NW, we provide professional legal representation for drivers and workers injured due to road construction accidents. To discuss your options in seeking compensation, call or contact our Issaquah construction accident attorneys online and request a consultation today.
Sources:
cdc.gov/niosh/topics/highwayworkzones/default.html
kingcounty.gov/depts/local-services/roads/projects-plans.aspx